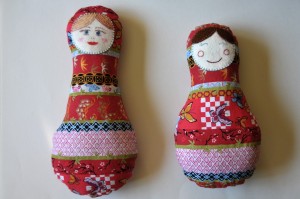 Here are my first two attempts at matryoshka dolls, I want to make one for a friend for her baby shower. The first one is much too tall, and didn't have a face at all, since I was just experimenting, by my daughter kept asking me to give her a face, so I drew one. The second one I was more sure of the shape, so I did embroider her face before I stitched her shut. I think she might still be too tall though.
For the next one I'm going to add a pocket for a nesting baby, but I need to decide if it is going to be gathered, or sewn flat on, and how big and such, and if I'm going to make the doll smaller… but I hope to get the next one right, because my daughter already has too many stuffed dolls, she doesn't need any more reject projects to care for!
These are so quick I may have a new addiction though, certainly a new baby shower gift, they are much quicker than quilts!