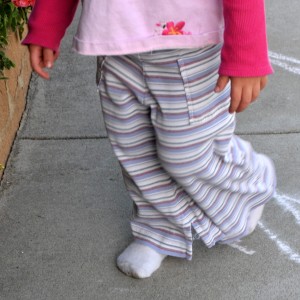 I've been meaning to do the tshirt to toddler pants conversion and I finally got around to it. I sort of used the directions in SouleMama's The Creative Family, and sort of didn't. But that's what got me started finally, someone (I've forgotten, oops) mentioned using those directions, and I thought, aha! I have that book! I'll go do that *now*, which is of course the only way I get anything done.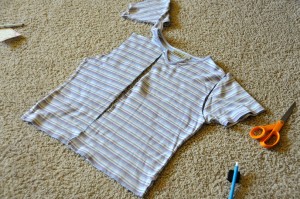 So I got out a tshirt, and made my daughter stand still so I could measure her, because I can't remember which of her pants fit to use as a pattern. Not very many right now, she's been growing. And when I laid her measurements out on my shirt, I discovered that I'm only going to be able to use my old shirts for a couple more months, because she needed the whole thing, from waist to shoulder. Which meant that I had to flip the pants layout around and use the sides of the tshirt for the inseam rather than the outseam, and I had to use whatever shape the shoulder seam was for the crotch seam. But hey, the whole thing worked out okay in the end, although it looks like it would have been better if I could have made the crotch seam a little steeper, because it's a bit baggy there. The pitfalls of using a women's fitted tshirt I guess. I'll have to ask my husband for his rags next, but there isn't a whole lot of shirt left when he's done, after downgrading them from work to weekends to shop… Frankly these pants started out with quite a bit of wear, because this is a very old tshirt. We all really wear things out around here.
I also added quite generous patch pockets on the hip, using the sleeves, because Rebecca has no interest in pants that don't have pockets. Sensible girl.