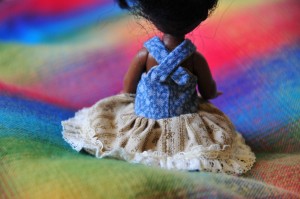 First a dress. I don't know why I never thought of this before, but it is so much easier to get a doll into a dress whose straps snap than get their arms through fiddly little sleeves, and also this gives the gapping back with huge velcro pieces a miss too.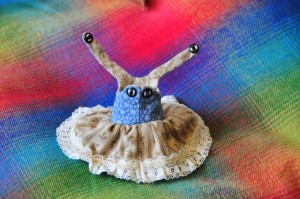 I avoided the tiny tiny turned seams by just making the whole bodice fully lined, sewing it right sides together and turning it right side out. Okay, so turning those long skinny straps was a bit of a pain, but less of a pain than my usual route of tiny plastic doll dresses. (I think this is Barbie's little sister, but I'm happily clueless and we got her at a flea market.) So now I can make as many dresses as my daughter wants, with very little hair pulling. Woot! And I bet I can even add sleeve caps to the strap shape.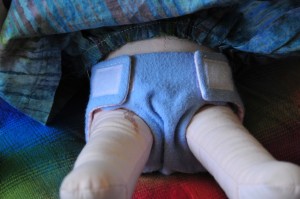 Next, diapers, necessary for any well turned out baby doll. This is the first one I've made, but it came out pretty well, and now I have requests to outfit the rest of her baby dolls. This one is reversible, partly to reduce diapering frustration, and partly because I couldn't decide which should be the inside.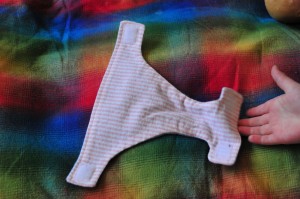 Whenever I take off Sali Doll's diaper Rebecca comes after me, exclaiming 'What are you doing? Sali Doll is pooping all over everything!' I had to take this picture fast.