A month ago, or so, I signed up for Rhoda's Recycled Craft Challenge, and this dressing table is what Rebecca and I made.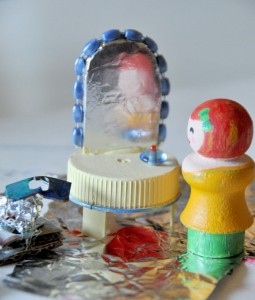 You can see more of what other people made at the Flickr group. It was a nice little low stress quick project, and now Rebecca's little people have some more furniture. We can't really agree whether this is a throne or a mirrored dressing table, but I don't see why it can't be both.
I have about five other projects to post about, but they are just going to have to come when they come. This here is a no apology blog.

Also, we did container painting (see here and here) for art group on Friday, but it seems unlikely that I'll get around to posting that. I'm not sure I even got a good picture! Couple more weeks until baby#2 (Which do you think, Penelope, Margaret, Guinevere, Ginger, Elizabeth, Marigold? I could keep listing names, our list goes on… Rebecca says if it's a girl she's going to call her Monica, and if it's a boy she's going to call him Pit, so maybe it doesn't matter what we think. Although she has agreed to lollipop as an adequate nickname for Penelope.) comes, and I'm trying to do a little less.