New Little People Figures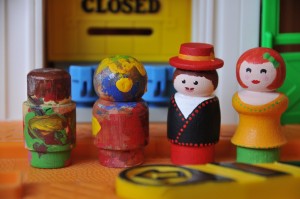 Once upon a time we bought Rebecca an old school Little People Main Street playset at a garage sale for $5, but it didn't have any people. We've slowly been fixing that. The first little person was a two inch section of wooden dowel with some tape wrapped around it, and a face painted on. (See the figure on the left.) I made a few of them, and they ran the show for a long time. We've slowly been adding 'nicer' figures to them, although, I really don't think Rebecca cares what they look like, it's more for mom and dad who also have to play with them.
Jesse turned two new wooden Little-People compatible figures, oh, months ago! I finally got around to my half of the deal, painting them. Of course it had to be a joint project with Rebecca, so she got to re-paint two of the figures we'd done before. (Can you tell which are which?) I think they came out pretty well, I'm getting much better at painting tiny faces, you should have seen the first couple. Luckily Rebecca has re-painted them, destroying the evidence. Whee!