I have been trying to find time to post this all week! Oy!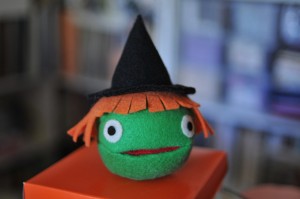 I finished my halloween candy hiding witch ball, and I like it. The red imp is coming along too. If you stick a rectangular mini-candy bar the wrapper sticks out her mouth, but I've decided that's just fine. I think the square ones will fit in better, but I don't have any, and I'm not buying any candy to see or I will eat it!
Since we had a witch finished we worked on /w/ activities. Over two separate days actually, and I still never got to making a big W sheet for our alphabet binder. Rebecca didn't want to, so we'll just move on without it. W-whatever.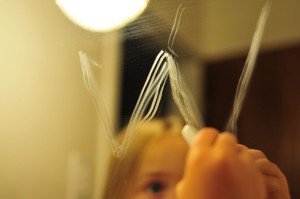 We wrote W's with soap on the mirror, then w-washed them off.
We did some w-walrus walking (on your arms, dragging your legs like a tail), and some w-wheelbarrow walking (on your arms with mom holding up your feet).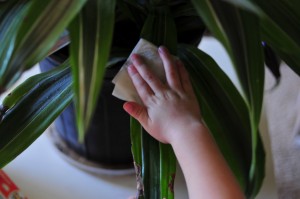 We w-wiped plant leaves with water to clean the dust off. We didn't stick with this for very long!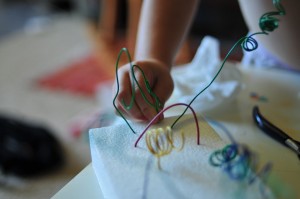 We worked with wire and wire cutters to make a wire sculpture in a styrofoam block, wrapping (not /w/) them around markers and pencils to make twisty springs.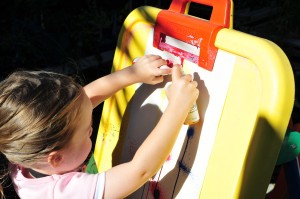 We got our DickBlick order, (yay new paint!) so we got to spray liquid watercolors on paper. Also, duh, "cleans up with water" does NOT mean washable! It means you can clean your brushes with soap and water, you don't need mineral spirits or turpentine. That was for our tempera paint, now I'm going to have to figure out whether I can make it washable with some kind of soap or not. But, the colors are MUCH nicer, and the washable paint has turned many of her shirts into 'art shirts' anyway, so maybe we've just graduated to student tempera.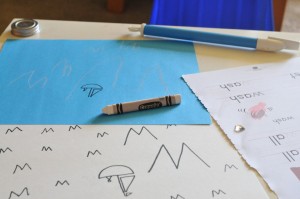 Rebecca drew W's to make w-waves using w-white crayon on blue paper, and we did a couple 'w' worksheets.
Also this was our first week of co-op preschool, crazy times! I think it's going to be great.