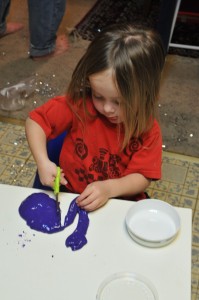 We like playing with Gak. We make the borax and glue kind, which is kind of like silly putty, but ours is a little closer to the jello/snot end of the spectrum than putty. You can blow bubbles in it, break it, bounce it, stretch it, let it drip off the table… and apparently you can cut it with scissors. Not my idea…
Filling it with tinsel also wasn't my idea… But I fully accept that it was very interesting. We could have made more, but I had more fun dripping it out of the tinsel.
Here is the recipe we use, we got it from the Children's Discovery Museum of San Jose:
1. Mix 1 cup hot water and 1 1/2 tsp. of Borax until dissolved. Set aside.
2. Mix 2 cups of clear glue and 2 cups of warm water together in a plastic bowl. (We use 1 cup hot water and 1 cup of washable tempera paint for color, and a glass bowl.)
3. Using a metal spoon, slowly pour Borax mixture into glue mixture while stirring quickly. Stir until the mixture leaves the side of the bowl. Gak will be sticky.
4. Knead until Gak is not sticky. The more you work with it the easier it will be.
We leave ours on the kitchen counter (in a plastic container so it doesn't dry out) for months. If you use washable tempera in the mixture eventually (after a couple months) it goes runny and you have to make more. If you just use water it eventually gets solid, or sticky, I can't remember, our friend made it that way. But in anycase, it lasts a good long time, probably it will be full of dust and hair before it goes bad.
Gak is fun, but remember that Borax is a poison, you don't want to inhale the powder, and you don't want to eat it. So if you think your children might eat this I wouldn't really recommend making it. We first played with it in the Discovery Museum's under 5 room, so I'm not sure what to think.
Today, through Kiva.org, I loaned $25 to a woman in Tanzania to support her used clothing store. Join me in my December drive to give a helping hand to people in poverty.