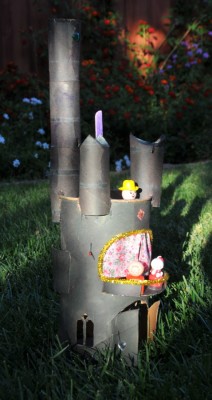 October! I love October! Halloween is my favoritest holiday. So far we're reading a halloween book each night, and I've made candy corn (felt) barrettes, and we've been working on this awesome haunted princess castle. What it is changes of course, it was a princess castle, then we painted it black-ish, and it turned into a ghost castle. In this process Rebecca painted over all the princesses she'd drawn, and then got really mad. You know, some days I'm glad I'm not still 4. Her life seems fun to me, but clearly sometimes so many things turn out to be incredibly frustrating experiences.
Back to the castle! You may not be able to tell from this somewhat inadequate picture, but the tallest tower (toilet paper tubes) is a jail shoot, you drop the bad guys in at the top, and then they are in jail. There is a tiny window, that Rebecca specified must be super tiny so there was NO WAY they could possibly escape. Of course there is a door on the back to let them out. But they can't use that.
There is a fabulous balcony on the front, with curtains that have little pull cords to pull them open. The embroidery floss cord runs through a slit in the side of the (oatmeal container) castle that is quite tight, so that holds it in place when you are not pulling the string.
We are not done yet. It needs more windows and more fabulous sparkly pipe cleaners glued all over, and maybe some peg people ghosts and, oh, I have glow in the dark paint. No, we are not done with this yet…
PS, you are dying to go visit my Etsy shop and buy my pattern for felt monster balls you can tuck candy in…