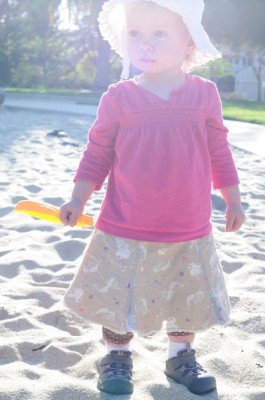 These pictures are six months old. That's what happens when I stop taking pictures of what I'm doing now! Swimming mostly, but we just built an air rocket launcher. Clearly I have been taking pictures of the wrong things…
I love this skirt though. I need to work on the lines a little bit, it is/was a little too long for Penelope, but I like the flaired morning glory-ish skirt. I may have to do something like that for me, but with a yoga waist. I am SO IN LOVE with yoga waists right now, they are cleaner than an elastic waist band, and so much easier than a zipper + button/hook/whatever. I am all about easy when it comes to clothes, my button holes are, um, appalling. I don't care if I have a machine that is 'automatic', they just look awful once you cut them open. So snaps or hooks. But the problem with zippers is you have to go and buy them, and I never do, and then you have to put them in, and frankly I'm pretty bad at that too!
But I adore the little mermaids on this skirt. (I think I got it from Jo's etsy shop, she is so sweet.) Oh, and it is a double gauze! Double gauze is so nice! It has such a nice weight, and it's breezy! (exclaim exclaim exclaim!!!) I have a bunch of it to make me a skirt (Alice in Wonderland and stripes that I got from Purl Soho, a story in itself), but I haven't and I haven't. Maybe the yoga waist will get me back on track. Have to think about that. Not sure I'm brave enough to do the knit yoga waist + woven skirt. Think think think.