Art Friday, the slightly late edition. This is a good one though, although it's more work to set up than many. But, it's physics! It's paint! It's fun!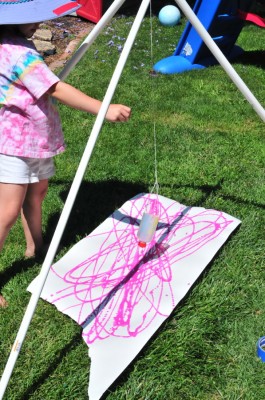 Woo pendulum painting! I saw this idea in Disney Family Fun Magazine, and also in Teacher Tom's blog. Disney had you hang the pendulum from a tree, Teacher Tom had built a pvc table frame.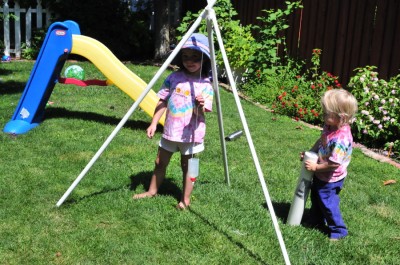 I didn't have paper big enough for a tree-hung-pendulum, and if I had used one I know a few young ladies that would have swung the pendulum over their heads spraying paint all over the visible scene. I also didn't have enough PVC to build a dedicated frame, but I did have several 5′ lengths that I'd just bought for our air rocket project. (Yes, there will be pictures of that next Friday.)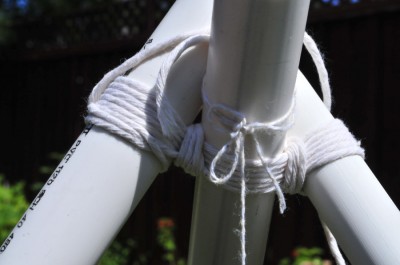 So I used my mad lashing skills to make a tripod. We should all get to use our mad lashing skills more often, I am pretty sure.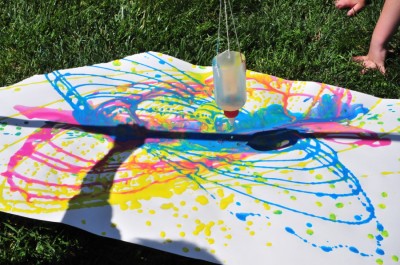 Our pendulum we made out of an 8oz paint bottle with a glue bottle type nozzle. My original thinking was that we would be able to control the flow, but it only barely worked full open. It did make it easy to close it to fill with paint though.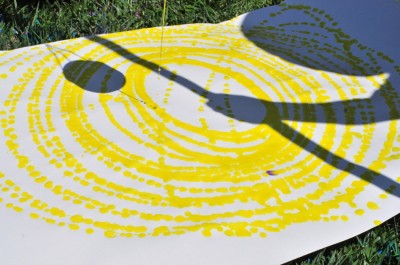 For the paint I just used tempera paint cut 50/50 with water. I kept adding water until it would freely drain through the glue bottle cap. Sometimes I didn't add enough and it would make a drippy spotty line, but that's fun too.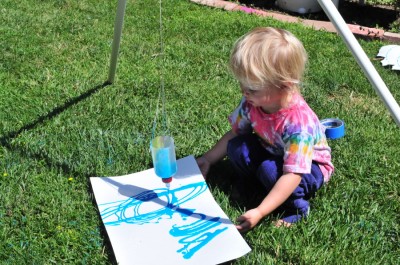 We all had fun! There was 'proper' painting by letting the pendulum swing, and also quite a lot of just holding the string and wagging the pendulum around, in addition to some 'moving the paper' techniques employed by our youngest artist.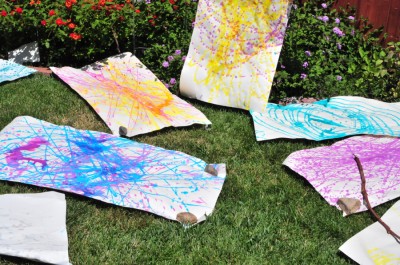 If I was going to do it again I would mix up a big pitcher of a single color (or maybe two) and precut the paper, because I felt like set up was a big bottle neck to our creative exploration. Also, bigger paper.
Or, you know, we could go totally hard core like this artist, Tom Shannon, and build a radio controlled solenoid driven six color mixing monster pendulum. But we probably won't. At least not this year.