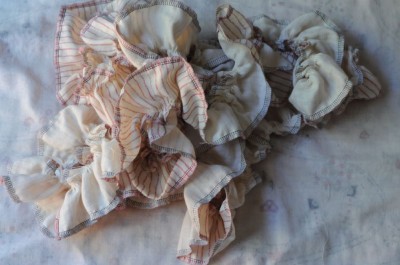 All good skirts start with making a large pile of ruffles. I love my ruffling foot. And I love being able to serge the top and bottom edges of the ruffle fabric and not having to hem all eleventy billion yards. I will be sad when serged hems are out of style. But that probably won't keep me from using them!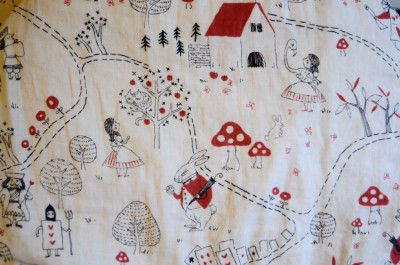 It is possible that all good skirts start by finding some awesome fabric. In which case this good skirt got two good starts, because I LOVE this Kokka Treffle double gauze print of Alice in Wonderland. Double gauze fabric is such an lovely floaty but substantial weight for a skirt! Love love love. I originally ordered three yards of it from PurlSoho, and I was crushed when I only got one. Sad mistake! But they made it up to me by letting me pick three yards of something else comparable, whether or not it was on sale (like the Alice print was.) So I found something compatible, the red stripes, and thought I could combine them in panels, and then I ended up totally switching my mind about the kind of skirt I liked and really only needing one yard for it anyway. Or perhaps it was really the opposite order, I only had one yard, and I was feeling lazy… In any case, skirt!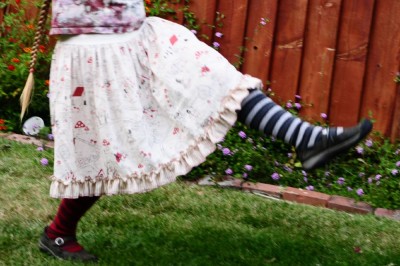 My fashion photographer (5) is still working on not taking totally blurry pictures. Possibly I need to set up the camera differently for her if I am not going to be holding still!
I am into comfy yoga waists right now, and this was my experiment with a yoga waist with a non-knit skirt. Worked fine. I like the tutorial at Sew Mama Sew, although frankly I think it is silly to suggest that you can subtract 3″ from your waist measurement to get the jersey waist measure no matter your waist size. If your (child's) waist is 21″ and you subtract 3″ as they suggest, nice snaggy waist. If you're a large woman and your waist is double that, and you only subtract 3″, your waist is going to be a little saggy I bet. Much more sensible to reduce by a percentage, I used their reference measurements to decide on subtracting 7%. Seems to work about right for me. I am concerned that yoga waists in general will loose their stretch over time like my favorite t-shirts, and then I will be sad. We will see how long my infatuation lasts. So easy, so comfy! Please last.