Card weaving, the beginning of a run of textile exploration posts, because as I've mentioned, I'm (co)teaching a class at Rebecca's school. It's really pretty cool, twice a year they get a run of six classes on one art subject for 3 hours on Thursday. And for these special classes the K-5 classes are all mixed up and they get multi-age classroom experience. So I need to test six weeks worth of textile exploration activities. Not going to make it, but I'll be tackling the tricky ones. Like spinning. Not sure how well mixing kindergardeners and drop spindles will work. Actually I have a pretty good idea, but I'm going to try anyway!
But card weaving! It's an ancient weaving technique that is incredibly flexible. You create the pattern by turning the cards different ways, each card can be turned independently of any of the others. (You can also just turn them all together as a stack to create simple stripes and chevrons.) It's fun! And incredible! Way more interesting than the 'plain weave' that you get out of a simple one-heddle table loom. And very strong. I am learning so much about textiles and getting so excited I know, but look at the incredible gothic text worked into this Cursed Bookmark (I think Donna's kids would love this) and these adorable little sheep and people (There are many more galleries of examples at weavershand). The Society of Primitive Technology has a good solid tutorial on how to get started, including how if you thread all your cards from left to right your belt will twist. This Basic Tablet Weaving page mentions how you can twist the cards around their vertical axis (flips the direction the threads are going through) which was a non-intuitive manipulation, but helped me rescue a twisting belt. And totally made sense once I figured it out. So many patterns! I love patterns!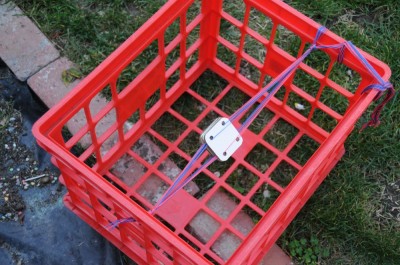 Here is the basic loom I set up for the girls, you can hook the warp on a door or your toe & belt, any two points to tension it, but I thought they would do better if they weren't tied to the work and they could get up and abandon it when they needed to! So I tied the warp from one end of a milk crate to the other, and that worked pretty well.
For the weaving I sat with Rebecca and said, 'twist', 'pack', 'throw the shuttle', over and over again, and both she and Ellie made it all the way through weaving a bracelet. There was a little bit of competition, which they did need to make it through the project. I would have adored this technology in high school, I think it will be great for the 5th graders, the kinders thought it was okay, but it didn't light their fire. Finger loop braiding is another weaving technique I want to learn too, thinking about the grade school me. I remember seeing someone at my school doing it in 6th grade, and really wanting to know what they were doing, but being to shy and 'cool' to ask. Now I have the internet! Internet, I love you.