Painting a Cardboard Fortress
This was fun. Why paint one cardboard box when you can paint about 15 of them all riveted together with makedo? This fortress should have been more spectacular, but it and our entire cardboard stash was rained on the day before. Sad! Shoring up a damp wilted cardboard fortress with more soft cardboard doesn't work so well. But it did help. The broom holding up the center helped more. Embarrassing, but practical.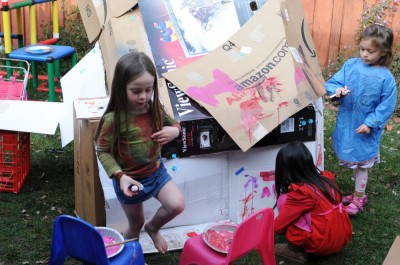 The girls really did love it. I put out tempera paint in pie pans, then water color spray bottles, and paper + masking tape. They painted and argued and painted, and worked on learning to spray paint their names. I felt like I was educating the next generation of taggers. One day cardboard buildings & spray bottles, the next underpasses and spray paint.
What did you do with all of your holiday cardboard?