Oc-Toy-Put or Oct-Toy-Put? Opinions? I was originally going to call it something boring and factual – Octopus Animal Organizer – I guess I try to cram everything into a name that I think someone might want to know. But my friend John came up with this catchier name. (It's catchier, right?) In case you can't tell, you hang it up and it lovingly strangles, or, um, hugs, 8 of your other stuffed animals. If you've already lovingly made your children too many stuffies, here is your guilt free opportunity to make another one! Or at least it was for me…
Squeezed into one yard of fabric, (barely, I'm all about the barely), for the next One Yard Wonders book. Props to maryanne for guessing that the pic of the pattern sketch in the post-before-last was an octopus!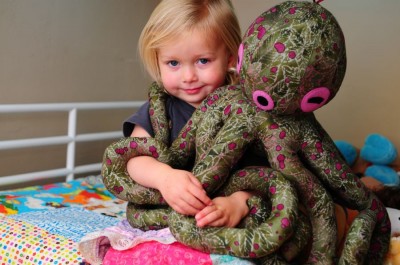 Penelope loves her new octopus, and was a very patient little model, even when it was eating her.