Rebecca's definition of a 'Cinderella Dress' is that it be blue. That is a low bar! I think it should also have a sparkly skirt. Also a pretty low bar. I'm not sure if it is age or personality type, but she doesn't care about matching the flounces or bodice or sleeves or what have you. And I am grateful! When I suggested that we could put a big heart on the front with some sparkly green tutu material she thought that was a great idea. Still a Cinderella Dress in her mind. At some point will she be properly indoctrinated by her peer group? How do you avoid that? Complicated questions.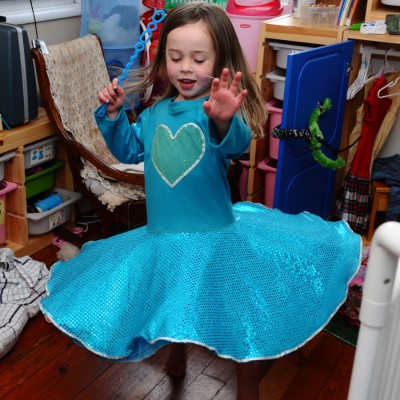 The bodice is a shirt pattern, Imke from Sewing Clothes Kids Love, and I really should have raised the waist. It's a fine waist for a shirt, but makes the dress look like it is about 3 sizes too big. Okay, lets be honest, the dress is also just three sizes too big. The skirt is a circle skirt, kinda obvious from the twirl! It has a layer of sequin fabric on top, then three layers of tulle, then a bottom layer of the same blue jersey as the top to keep it from being scratchy. I used a ribbon hem for the top layer, and the jersey bottom layer I just serged.
You can see that I cut it a little too far into the selvage, there is a bit of the skirt that doesn't have any sequins at the right of the photo. Oops!
Given how big I managed to sew this dress, I'm hoping she loves it for a very long time. Since most of her dresses have to be pried out of her fingers when they are stretched tight and the hem doesn't even make it to mid-thigh, I don't expect that to be a problem!
The dress is loved, and I am happy.