Walking the Paint – Friday Art Group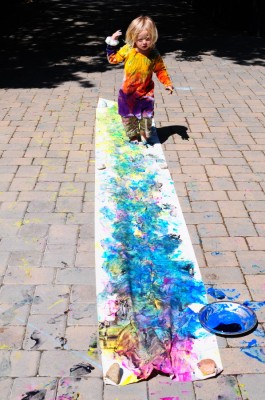 This was an easy summer project, we put out pie plates full of paint in different colors and unrolled some cheap roll paper from IKEA, holding it down with rocks. Oh, and warned the kids that it was going to be slippery, please don't crack your skulls open on the driveway! Seriously, I considered handing out bicycle helmets.
Some of them wanted to get their feet messy right away, and some of them took a little time to warm up to the idea, but I think everyone had fun, and no one got hurt! Yay!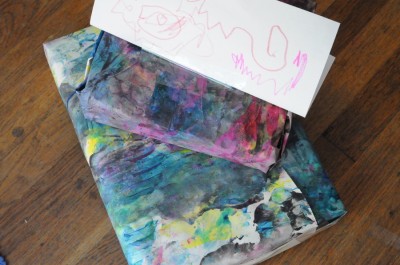 We ended up with two banners, and after they dried I rolled them up and put them with the wrapping paper. You can't see it very well in the picture, but we used a good amount of sparkly paint mixed in with the plain, which gave the whole thing a little bit more of a shiny wrapping paper look. This would be a great summer project to quickly stock up your holiday wrapping paper.

The previous circle painting project is another great wrapping paper project, but I sent those home with friends.