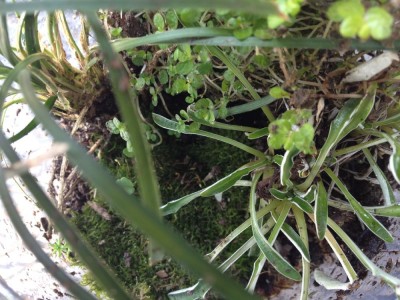 Last Friday for Art Playgroup we made Terrariums. I really really wanted to try again to make a closed ecosystem terrarium, but I don't think I'm there yet. Despite my friends all thinking that I have a green thumb I've managed to kill every closed terrarium that I've made so far! This time I went so far as to follow directions! Sort of. And use a charcoal layer. But I guess I need to take sterilization more seriously too. Or get the moisture level right, or I don't know. So, yes, Penelope's terrarium is molding after a week. But Rebecca's, which the top has been left cracked open, and which she made entirely herself, with wonky dirt levels and general mayhem, is doing beautifully. More proof that I should just step back!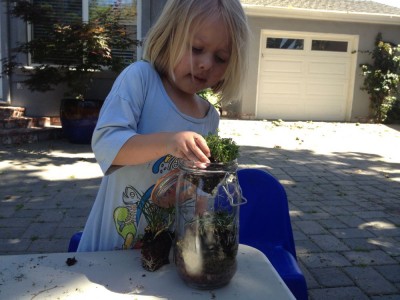 We used all sorts of jars, including some bail top jars the girls keep making 'potions' in, aka gross stews of decomposing plant matter. Mmmm. And apple sauce jars, those vases that accumulate from florist deliveries… If you can get your hands on some one gallon glass jars from sauerkraut, those are awesome.
We tried to properly follow the directions at The Fern and Mossery Step 1: Materials and Tools Step 2: Adding Soil Layers and Step 3: Adding Plants. But right off I got the order of charcoal and pebbles backwards (pebbles THEN charcoal). Luckily I had sent out the tutorials ahead of time, so those who bothered to read the instructions themselves got theirs right.
There are a million terarrium examples from Terrarium Man, if you are looking for inspiration, I was especially delighted by the Tiny Tiny Terrariums!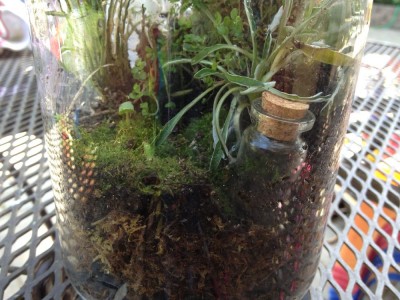 As I am apparently incapable of either-or decisions we made both. And the girls decided that it was most proper for their tiny terrariums to be located inside their larger terrariums! That way, the fairies that lived in the cave made by the plants would have their own terrarium. Of course.
We used these tiny bottles from Amazon. I decided not to get the ones with the screw hooks on top, because the idea of rampaging girls wearing charming glass bottles around their necks… not so good. I'm glad they decided to put their mini terrariums inside their larger ones, because now I'm not worried about stepping on a glass bottle lost on their floor somewhere! Woo.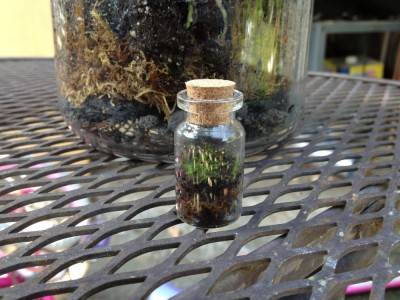 I made my own mini terrarium, which is sitting on the windowsill above the kitchen sink. It makes me happy. And it is actually not molding.
Have you ever succeeded in making a completely closed terrarium? Do you have a secret?