Scrappy Shapes for Felt Boards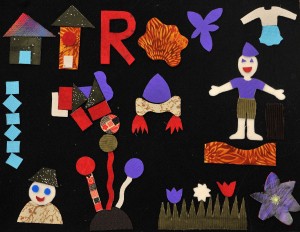 What to do with tiny fabric scraps from your stash? Cut interesting shapes out of them and add them to a felt board set. It will be more fun to build with because there will be more textures and patterns to play with, not just felt. You can use any kind of fabric for this, cotton, corduroy, velvet, linen… You can even use paper, and although nothing will stick on top of the paper shapes they can add a lot of interest too. The secret to using all these different materials on your felt board is to bond them to a layer of felt.
First you need a felt board though, perhaps you already have one, or they aren't difficult to make. Just take a large piece of felt or flannel and back it with thick fusible interfacing for a roll-able board, or wrap it around a board and tack or staple or glue it for something sturdier. Here is a great and super simple travel felt board tutorial by MaryAnne at mama smiles, and a really cute felt board in frame posted by itty bitty love.
I think the fun part, and what I want to talk about here is making all the shapes. The traditional way is to cut them out of felt, which is great because it's cheap and it doesn't fray. But with a little craft glue or fusible interfacing you don't have to be limited to just felt. The steps are super simple, demonstrated here in part by my three year old assistant.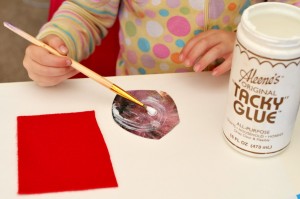 Smear glue on the back of the fabric or paper. Use a craft glue that says it is flexible when dry, or I've also used glue sticks before to glue felt. If you are using liquid glue try to spread it quickly and thinly so it doesn't completely saturate the fabric and felt.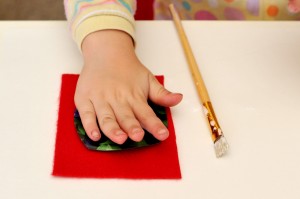 Stick the paper or fabric down on top of a piece of felt.

Fold inside an ironing cloth to protect your iron from the glue and iron it flat and dry. Then cut it into an interesting shape.
If you have some fusible interfacing scraps around that have a fuzzy felty back you can skip the glue step. The thin kind of fusible interfacing I have is slippery on the back and won't really stick to the felt board, but the thick kind I have is fuzzy on the back and works great. Just test what you have, and see if it sticks. Or you can use double sided fusible stuff, with fabric on top and felt on the bottom, replacing the glue above.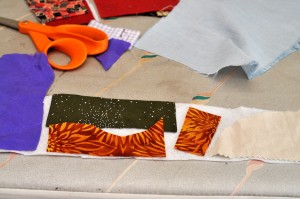 Just cover your fusible interfacing with tiny scraps, or big scraps, cover the whole thing with an expendable ironing cloth, and iron it. You will have to peel the ironing cloth off, but as long as there aren't too large gaps between your tiny scraps it isn't a big deal, the fusible glue isn't that strong, especially if you peel it while it's warm. Or you can cut up your fusible interfacing before hand to fit under your fabric scraps. If you have a lot of really tiny scraps though I don't think it's worth the fuss.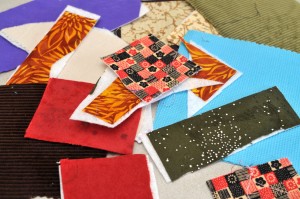 Then you'll have a fast pile of interesting shapes to cut up.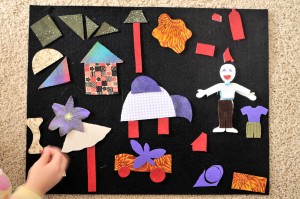 Slice them and dice them into triangles, squares, circles, squiggles, splots, lines, wiggles… Oh and of course these fabric scraps make great felt person clothes. Here is a simple person pattern for making a felt doll, there are extra lines on it suggesting where to cut for shirts and short and pants, follow the outline from the waist to the hips and then flair out for a skirt, or just cut a trapezoid, felt boards are the land of imagination after all.
There are so many directions you can go with felt boards, geometric shapes, animals, people, story-boards… mama smiles has a lot more patterns for sets of felt shapes if you search her site for 'felt board', and there are also some cute felt shape ideas at Dundee Writer: Flannel Making Frenzy, and Chasing Cheerios: A Felt Jack O'Lantern Game.
Rebecca had as much fun cutting up the new shapes as playing with them later, so if you have a little one be sure to involve them in both kinds of play!