How to Make a Drop Spindle
Spinning is awesome, and I bet you have everything in your house you need to make a spindle, and if you have a dog, or some other sheddy type of pet you might have everything you need to spin! (But wool is probably easier to start with.) This spindle I'm about to show you is super low tech, and slightly shoddy, but it does the job. The other CD tutorials I've seen want you to get a rubber grommet to snap the CD into, but I had a hard time finding one the right size, so I made this up instead. Heck, if you want to go really old skool though just go out in the front yard and pick up a rock. Done. The first drop spindles were very likely rocks with a leader yarn tied around them. Now I want to try spinning with a rock.
What do you need?
A wooden dowel, about 12″, (but a pencil will do fine in a pinch)
An old CD, (or some cardboard cut to look like a CD)
Some masking tape or two rubber bands
Some kind of hook – if you have a picture hanging kit look in there, otherwise you can get creative with a paper clip or sewing pin. Or you can ditch the hook altogether and just put a notch into the end of your dowel to hold the yarn, or tie your yarn in a half hitch around the end of the spindle. So many choices!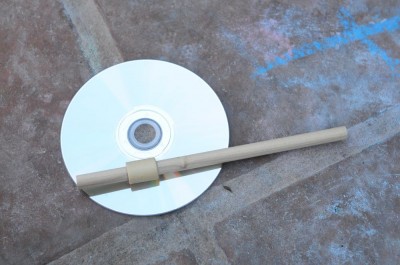 Wrap masking tape around your dowel or pencil until it just fits through the CD or cardboard. For a top-whorl spindle put the tape about 1/3 of the way from the top, and for a bottom-whorl put it about 1/3 of the way from the bottom. The 'whorl' is the thing that whirls around, in this case the CD.

I like a bottom whorl spindle because it is more stable, but a top whorl spindle is easier to hook the yarn on the hook because of the way the yarn comes up and over the edge of the CD and then through the hook.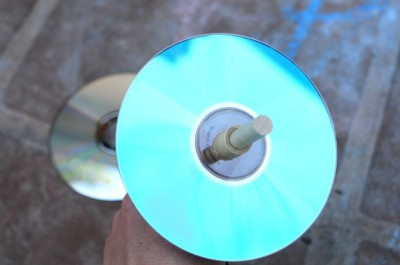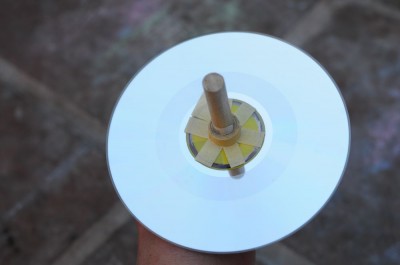 Use small pieces of masking tape to secure the CD. You could also use hot glue.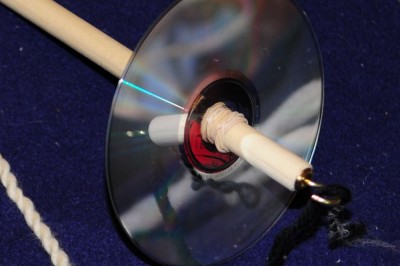 To do the same thing with rubber bands, wrap one rubber band several times around your dowel to make a lump, stick the CD on, and then make another rubber band lump above it to hold it in place. This is what we did in our class. These rubber bands are too small though, you should use something thicker. Next time we will too. Or we will skip the CDs altogether and use wooden toy wheels.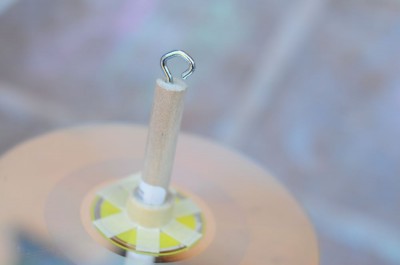 Screw the cup hook into the end of your dowel or pencil eraser. You probably want to drill a pilot hole, but you can get away without if you are lazy like me and don't mind a bit of cracking. If you are aiming for a heirloom spindle you probably aren't going to use a CD, or follow this tutorial at all.
If you don't have a hook, I would hammer in a pin, then pull it out, bend it into a curve with some pliers, and super glue it back in.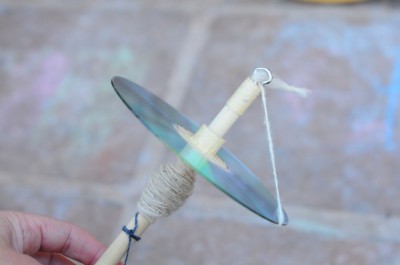 Then tie a stout piece of yarn around the middle of your dowel and start spinning! It is so much fun!
Actually, I think the CD doesn't quite have enough mass to give you a nice spinning inertia, to make it better I'm going to try taping some pennies on the underside of the CD right at the outside edge. I bet that would give it a nicer feel.
Here are some getting started links from the Joy of Hand Spinning, there are videos over on the far right side of the pages.
Spinning with a Drop Spindle
Basic Hand Spinning Techiques
So much fun! I have no idea what to do with the yarn I'm making though, I'd like to make something special, but I'm not sure what. Any ideas?